Fabrics
Orange Cat Packs uses a variety of high performance fabrics in the construction of our bags. Keep scrolling to learn more about the different materials and your options for your designing your own custom colourways.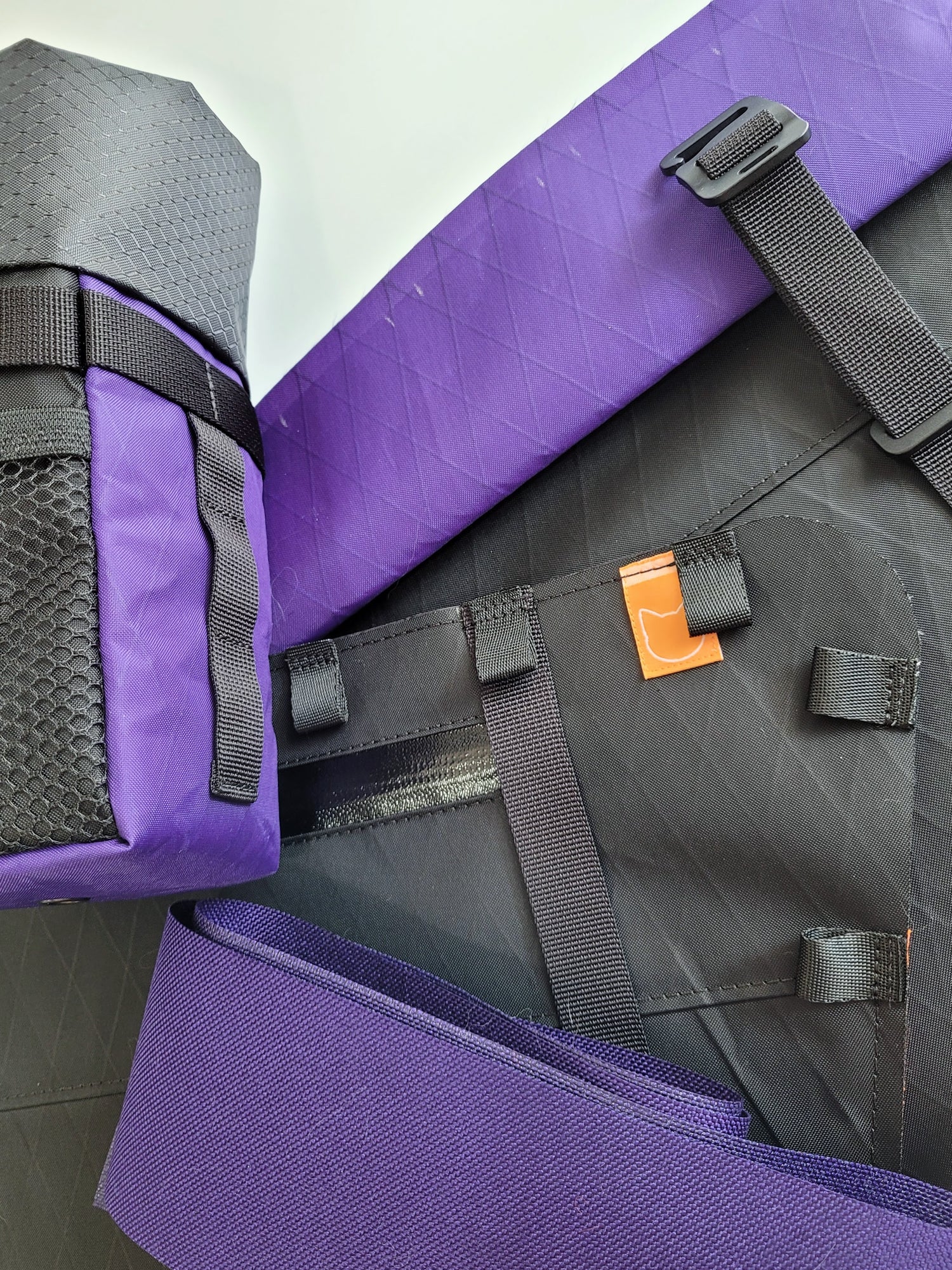 Different fabrics for different tasks
When ordering custom bags, your options are different for each section of the bag. Some parts require a burlier, more flexible option like Cordura. Other parts benefit from a thin, waterproof laminate fabric.
When selecting from each list of options, you can rest easy knowing every available option will make for an incredible finished bag.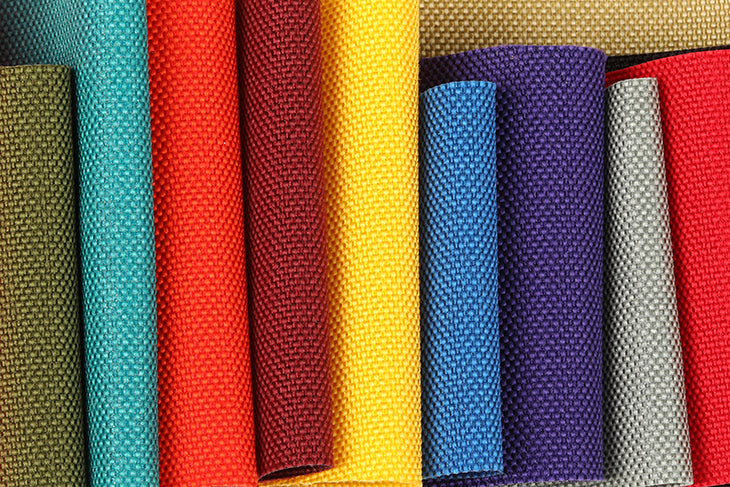 Cordura® woven fabrics
These durable woven synthetics are made from either nylon or polyester and are a long time staple of the outdoor industry. This fabric is highly abrasion resistant and comes in a wide range of colours and prints, but it is relatively heavy and although treated, it is only water resistant.
Cordura fabrics are used for the trim section of frame bags and top tube bags, and occasionally on other bags to show of their awesome colours and patterns. Because of its weight and softer hand it isn't well suited to large flat panels that need to hold their own shape.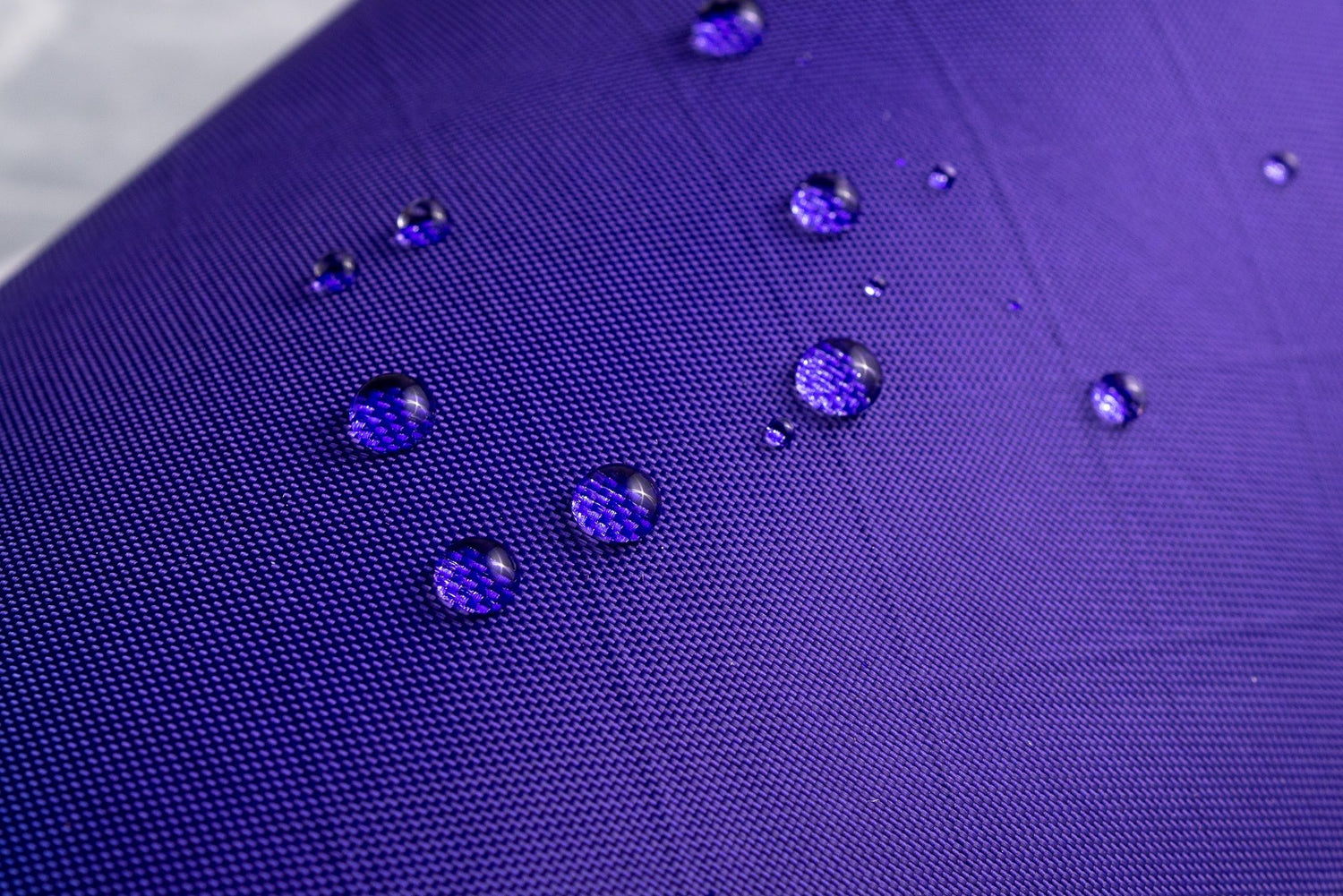 ECOPAK® laminate fabrics
ECOPAK® laminate fabrics - the next generation of technical outdoor fabrics. These products are made up of multiple bonded layers, normally featuring a DWR treated face fabric, a reinforcement grid, a waterproof membrane, and a liner fabric. These fabrics are significantly lighter, hold their shape better, and are much more water resistant than Cordura®. Although burly enough for most applications, they are less abrasion resistant than traditional thick woven fabrics.
Laminates are best for large flat panels but not always great for curves or areas of extreme abrasion.
The Recycled Future
Most synthetic fabrics to-date have been made with exclusively new materials.
In recent years this has started to change and Challenge Sailcloth® was first out the gate with their ECOPAK® line of fabrics. These fabrics are made with 100% recycled fibres and films, and are free from the environmentally harmful chemicals traditionally used in DWR fabric treatments and the construction of many laminate fabrics. Read more at challenge-outdoor.com
Dimension-Polyant, makers of X-Pac® fabrics have also stepped up to the challenge and are beginning to develop recycled options. They have also taken significant steps to reduce the environmental impact of their production process. With Carbon Neutral production in Connecticut their fabrics also present a strong environmentally conscious choice. Read more at x-pac.com
For now, due to the wider range of colours and styles and the easier availability of Ecopak® fabrics, the majority of options for Orange Cat Packs are made with Ecopak. If you already have bags in X-Pac and are looking for a perfect match on a new bag shoot me a message. I have limited quantities of some X-Pac colours still available.